Trump: "I was elected to Clean the Swamp", so please impeach me fast!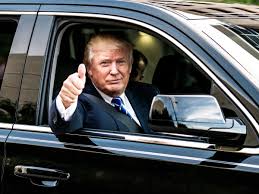 Donald Trump has urged Democrats to impeach him "fast" in a tweet while slamming the Democrat-led impeachment inquiry in the House of Representatives, claiming a trial in the Senate would be more "fair" to the president.
"The Do Nothing Democrats had a historically bad day yesterday in the House," he tweeted on Thursday morning. "They have no Impeachment case and are demeaning our Country. But nothing matters to them, they have gone crazy."
Mr Trump added: "Therefore I say, if you are going to impeach me, do it now, fast, so we can have a fair trial in the Senate, and so that our Country can get back to business."
His comments came after the House Judiciary Committee began hearing public testimony on Wednesday. Democrats were considering drafting articles of impeachment possibly ranging from obstruction of justice, dating back to former Special Counsel Robert Mueller's investigation on Russian interference in the 2016 election, to bribery involving Mr Trump's 25 July phone call with Ukrainian President Volodymyr Zelensky. 
In his tweet, the president suggested Republicans would bring House Intelligence Chairman Adam Schiff — who spearheaded the House probe into Mr Trump — to deliver testimony before the Senate during an impeachment trial, as well as the Bidens, House Speaker Nancy Pelosi "and many more".
He also wrote that, if the House impeached him and the Republican-led Senate launched a trial, Mr Trump would "reveal, for the first time, how corrupt our system really is."
"I was elected to 'Clean the Swamp,'" he wrote, "and that's what I am doing!"
The White House declined invitations from House Judiciary Committee Chairman Jerrold Nadler to participate in the next phase of the impeachment inquiry, writing in a letter during the weekend that the process was "unfair" showed a "lack of seriousness" in its fact-finding process.
As Mr Trump tweeted, Democratic House Majority Leader Steny Hoyer was on a live interview with CNN and said about the impeachment inquiry: "This has been a long, thoughtful, careful process."
Meanwhile, other Democratic leaders have described the impeachment inquiry as a "somber" and "prayerful" time, including Ms Pelosi, who was set to deliver her weekly press conference shortly after the president posted his tweets.